[rev_slider alias="big-commerce" /]
The leading ecommerce website builder
Our powerful ecommerce software gives you all the features you need to build an online store, but BigCommerce is much more than a website builder. We give you the tools to streamline your online business so you can focus on what you do best — selling.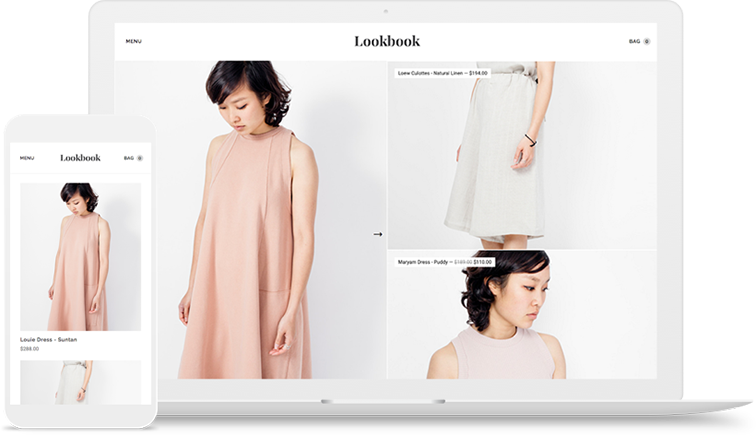 Build a beautiful ecommerce website…
Create a fully customized, responsive online store that speaks to your customers and showcases your products.
Choose a fast ecommerce template
Customize your website
Focus on selling with a hosted ecommerce website
Migrate your store and import products
One-on-one launch services
The best ecommerce website design platform
Build and design a better online store to grow your brand
BigCommerce is the leading platform for creating beautiful, intuitive ecommerce websites that enhance your brand and engage shoppers. Grow your sales by building a gorgeous site using our out-of-the-box themes or advanced customization framework.
Responsive ecommerce templates that drive sales
Completely customize your site
Build a site in ½ the time
Deliver a personalized experience
The best solution for selling on mobile
Connect with ecommerce website design experts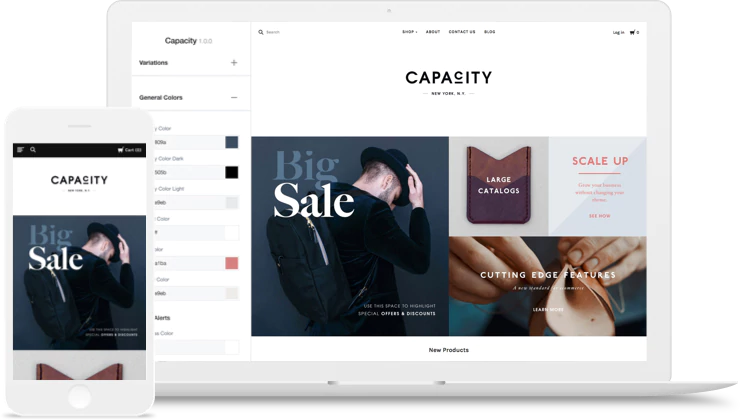 Hosted ecommerce solutions with unmatched performance
Built for speed and security
When it comes to hosting infrastructure, the wrong platform can significantly compromise your operations. Leveraging the power of Google Cloud Platform, BigCommerce offers multiple layers of security, unparalleled bandwidth, and blazing-fast speed – all allowing you to spend more time on generating sales, and less on monitoring and maintaining your site.
Industry-leading uptime
Faster sites, higher conversion
Uncompromising security
DDOS protection
Level 1 PCI-compliant hosting
Certified Secure
Sitewide HTTPS boosts conversion and search rankings
Blend content and commerce in one-click.
Drive traffic to your site and turn visitors into customers with compelling content and our one-click commerce plugin for WordPress.
Install BigCommerce for WordPress
The fastest site load times for WordPress commerce.
Commerce shouldn't slow your site down, it should speed up your growth. BigCommerce Essentials' APIs meld to WordPress like no other ecommerce solution on the market.
Eliminate URL sub-domains.
Use one URL from homepage to checkout for a better customer experience and increased organic search rankings.
Security without sacrifice.
Our WordPress plugin automatically keeps your store credit card compliant to industry standards and guards against fraud and security attacks at no additional charge to you.
Explore all BigCommerce for WordPress features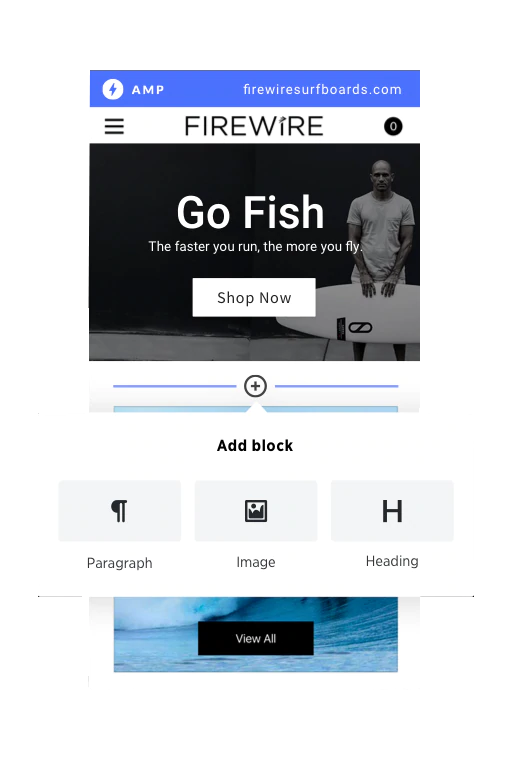 Grow revenue with built-in conversion optimization tools
CRO tools and features included
Our merchants grow at nearly double the industry average because we include dozens of features to optimize for website conversion and turn shoppers into buyers. Get advanced CRO tools to reduce friction, encourage checkouts and even bring back shoppers who left your site.
Recover 15% of abandoned carts
Increase checkout with PayPal One Touch
Improve conversion rates by 12% with a streamlined checkout
Incentivize buyers with built-in coupons and discounting
Improve search effectiveness with filtering
Grow conversion and order value with Google Trusted Stores
Boost shopper confidence with product reviews
Accept online payments with your choice of providers
The best selection, the best rates, no penalties
BigCommerce offers a wide range of payment options to help you transact globally, increase mobile conversion and grow average order value — all at the industry's best rates. We give you the power to choose the solutions that work best for your business with no unnecessary transaction fees.
Freedom of choice, without penalties
Competitive rates that decrease as you grow
Accept credit cards and PayPal with a click
Grow mobile conversion with digital wallets
Increase purchasing power with consumer financing options
Decrease fraud and chargebacks
Add card-on-file and recurring payments functionality
Accept payments from around the world
Better shipping and fulfillment, happier customers
All the shipping options you need
BigCommerce gives you the shipping options you need to improve conversion, encourage customer loyalty and streamline your operations. Everything from real-time shipping quotes to advanced shipping platforms to outsourced fulfillment services are all seamlessly integrated with your online store.
Cutting edge functionality at zero cost
Fast shipping setup
Earn lifetime customers with a seamless shipping experience
A shipping solution that grows with the complexities of your business
Print shipping labels and save
Ship smart. Save time and money.
Expand to international markets with cross-border shipping and fulfillment
Get metrics that help you grow business
Two ways to make more confident decisions
BigCommerce is purpose-built to help you grow by revealing product and customer trends that can help you drive sales. Use our Ecommerce Analytics to see store performance, anytime. Or, choose actionable analysis each month with our premium service, Ecommerce Insights.
Focused metrics for merchants
Quick and easy snapshots
Detailed reports are built right in
Get more with Ecommerce Insights

More details on Ecommerce Analytics and Insights
Sell to customers
anywhere in the world
Global selling, simplified
The true potential of selling online is the ability to reach shoppers around the world. But not every ecommerce platform gives you the options you need to do that. BigCommerce includes features that let you sell anywhere, from international payment providers to native language support.
Accept payments in any currency
International options for shipping and tax
Your store in any language
Integrate with powerful ecommerce applications
The best selection of ecommerce business apps and integrations
Our marketplace has an industry-leading selection of third-party apps and integrations, all carefully curated to make sure we only feature the best solutions. You can seamlessly connect your store to the software you need to sell effectively.
Marketing & conversion apps to increase sales
Shipping apps to improve fulfillment
ERP integrations to streamline your operations
CRM apps to improve your customer experience
Build your own integrations with our powerful API
Accounting apps to save time and reduce manual errors
Automate your taxes with Avalara
Develop and scale faster with open APIs
Run your business the way you need to
Our highly extensible, flexible platform will support your business today and far into the future. In addition to advanced native features like faceted search, BigCommerce offers hundreds of single-click integrations with industry-leading software to expand your store. Or build your own new functionality and integrations using our open API architecture with unlimited calls.
A developer's dream
Seamless integrations
More native features
The best technology partners
Catalog API
Login API
Cart API
Industry-leading support and services
The best support in the business
No other ecommerce platform has the in-house support and services of BigCommerce. We offer onboarding teams to get you migrated and launched with ease, 24/7 chat, email, and US-based phone support for technical issues, and a Premium Services team focused on helping you grow.
Reach us 24 hours a day
In-depth online resources
Get help building your store
Monthly updates from our leadership team
Connect your store to the software you need
We'll move you to BigCommerce
Effortlessly sell everywhere with omni-channel integrations
A single hub for all your channels
BigCommerce offers a seamless approach to omni-channel retailing, serving as the hub for all your channels. We're the only ecommerce platform that natively integrates with eBay, Amazon, Facebook, Pinterest and Google Shopping.
Streamlined channel management
Sell on marketplaces
Sell on social media
Sell in person