QUICKBOOKS ITAX VAT UTILITY (DATA IMPORT APPLICATION)
QuickBooks Add-Ons
Versions available:
iTax VAT Withholding QuickBooks Data Import Utility
iTax VAT QuickBooks Data Import Utility Standard
iTax VAT QuickBooks Data Import Utility Enterprise
The QuickBooks iTax Utility is an application for importing required data from Quickbooks into the KRA iTax monthly VAT Excel Files for upload to the iTax online system.
Automate the process of transferring data from your QuickBooks data file to the KRA VAT application csv file. Our QuickBooks iTax Utility eliminates the errors or mistakes that occur while manually populating the KRA worksheets in the required MS Excel csv format for monthly VAT submissions. This is handled by our application and gives you the peace of mind and error free data transfer.
The data within your QuickBooks database has to be input accurately in order to have the correct information transfer into the iTax csv worksheet. Saves you time and saves you from additional workload to be done at the end of the month to get the correct figures into the KRA iTax online system for your monthly VAT returns.
Eliminates the cumbersome and time consuming (and error prone) method of exporting reports from QuickBooks into MS Excel and then converting it into the required files and finally copying the data and pasting the same into the KRA iTax csv file.
The QuickBooks iTax Utility will assist you in the process of importing data from QuickBooks as well as save you precious time by doing almost the entire task for you. It minimizes errors caused by copy / paste and import / export of data between applications. It also minimizes or eliminates the issue of data manipulation by staff.
The utility is a licensed software application and copyright of Interactive Technology Limited and it's partners and developers.
PRICING:
For as little as Kshs 12,000.00 + VAT you can purchase the iTax VAT Withholding Add on application.
iTax VAT Utility Standard for Kshs 15,000.00 + VAT (Special introductory Offer) you can save hours of manual data transfers between QuickBooks and KRA iTax system.
iTax VAT Utility Enterprise – Get both the utility functionalities in one – iTax VAT Withholding + iTax VAT Utility Standard – Bundled as iTax VAT Utility Enterprise for the low price of Kshs 25,000.00 + VAT

SAVE – time
AUTOMATE – transfer data at the touch of a button
SIMPLE – effortless data import
Features & Restrictions:
Features
Automated Data Transfer
Minimum user involvement
Security features built-in
Single Click Activation (Auto install & Activate)
Easy Administration
No data in QuickBooks is altered – only a one way transmission of data from QuickBooks to the iTAX VAT Utility.
KRA iTAX System Compatible
Restrictions:
The following restrictions apply to the QuickBooks add-on application:
Single company file use
Single user mode only available
Application has to be installed on the same PC running the QuickBooks software
Works with QuickBooks 2010 and higher only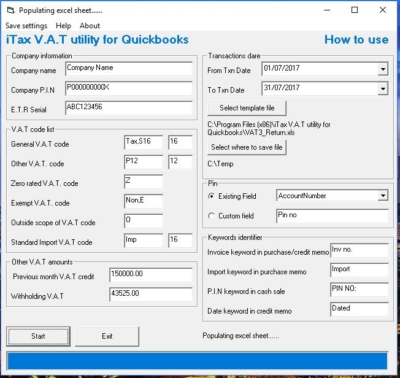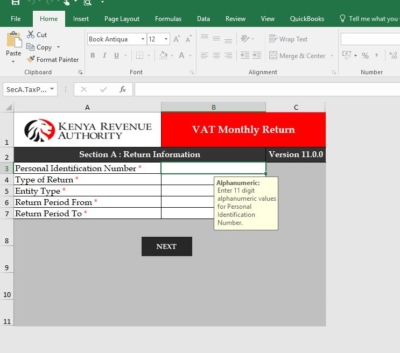 Core requirements: (Minimum)
Windows 7 SP1 or Widows 8.1 update 1 (32-bit and 64-bit) or Windows 10
iCore 3 or 5 with minimum 2.4GHz processor
4GB RAM
2.5GB disk space
1024×768 screen resolution — extended monitor is supported
High Speed USB Port, if installing from USB Flash Drive
Online features require internet access
Product must be registered online