How

 teams of all sizes 

connect,

 

create,

 and 

collaborate.
A flexible, innovative solution for people and organizations to achieve more. Google Workspace solutions seamlessly integrate everything you and your team need to get anything done, all-in-one place.
Use shared calendars to see when others are available and schedule meetings with automatic email invites. With one click, turn your meeting into a video conference from any camera-enabled computer, phone, or tablet. Share your screen to review your work as a team, and make decisions on the spot.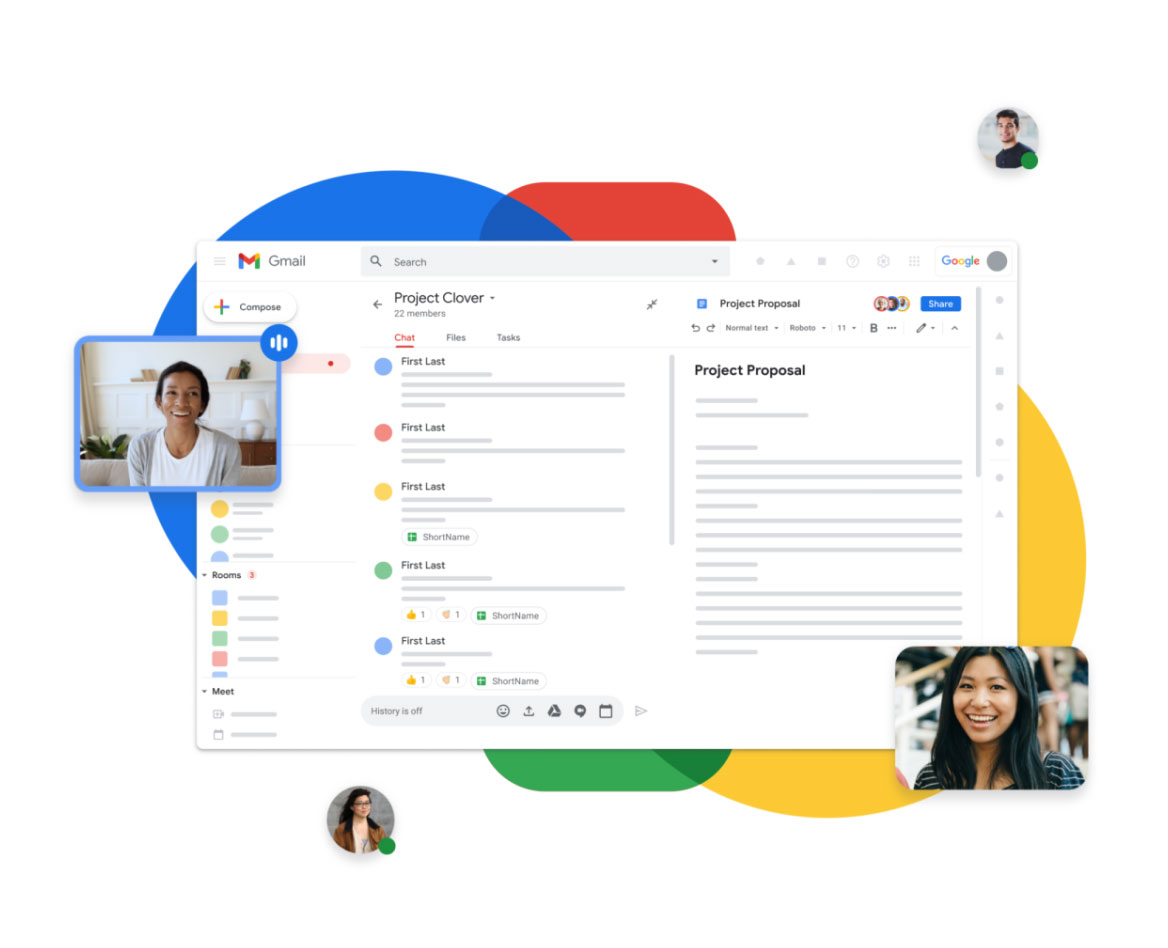 Productivity and collaboration tools for all the ways we work.
Choose your Google Workspace pricing plan.
Every plan includes

Business Starter, Business Standard, and Business Plus plans can be purchased for a maximum of 300 users. There is no minimum or maximum user limit for Enterprise plans.
Google Workspace customers may have access to additional features for a limited promotional period.
*Google Workspace provides flexible pooled storage per user that is shared across the organization. Visit our Help Center to learn more about getting additional storage for your organization.
Do your best work, all in one place.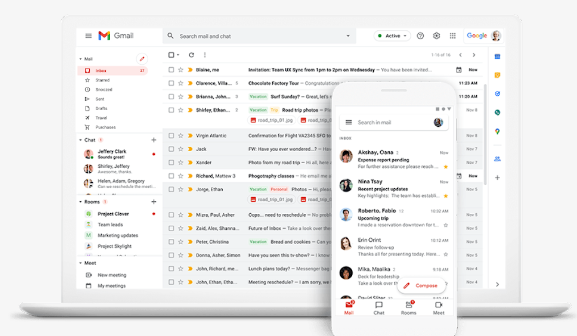 Gmail
Secure business email, and so much more
The latest Gmail makes it easier to stay on top of the work that matters. With secure, ad-free email as a foundation, you can also chat, make voice or video calls, and stay on top of project work with shared files and tasks — all right in Gmail.
Calender
Make the most of every day
Spend less time planning and more time doing with a shareable calendar that works across Google Workspace.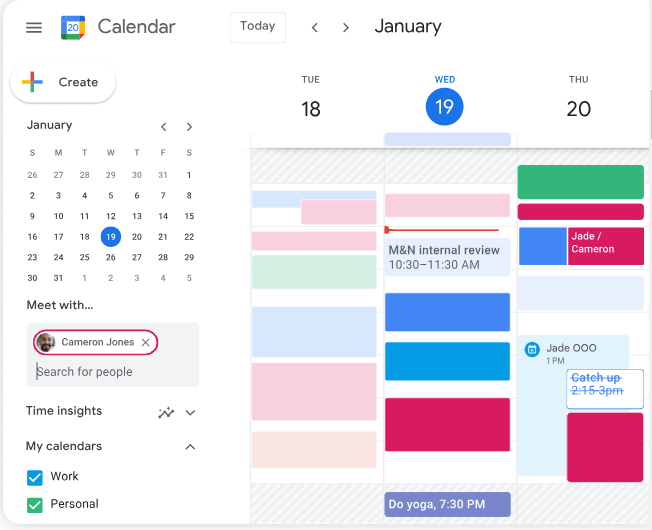 Google Meet
Secure video meetings for teams and businesses.
Help your team stay securely connected with enterprise-grade video conferencing built on Google's robust and secure global infrastructure. Meet is included with Google Workspace, Google Workspace Essentials, and Google Workspace for Education.
Trusted by enterprises around the world.
Take advantage of the same secure-by-design infrastructure, built-in protection, and global network that Google uses to secure your information and safeguard your privacy. Meet video meetings are encrypted in transit and our array of default-on anti-abuse measures keep your meetings safe.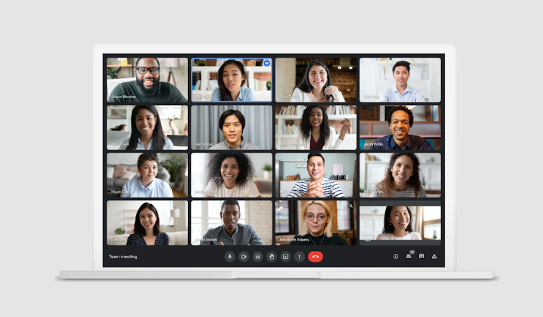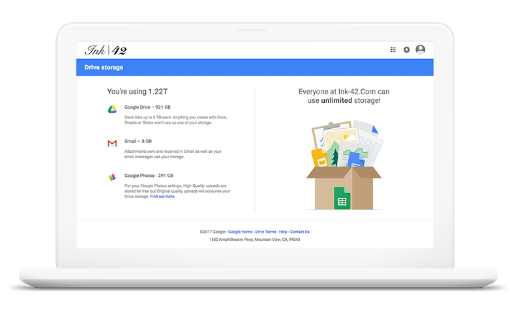 Drive
Store, access, and share your files in one secure place
Store any and every file. Access files anytime, anywhere from your desktop and mobile devices. Control how files are shared.
Get all the storage capacity you need
Google Workspace provides flexible storage options so you will always have enough space for your files. With centralized administration, data loss prevention, and Vault for Drive, you can easily manage users and file sharing to help meet data compliance needs.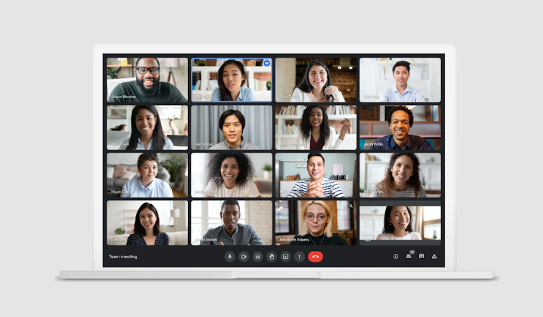 Docs
Word processing for teams
Create and edit text documents right in your browser—no dedicated software required. Multiple people can work at the same time, and every change is saved automatically.
Commenting, chat and real-time editing
Work in a single document with teammates or people outside your company. See edits as others type, communicate through built-in chat and ask questions through including comments.
Sheets
Collaborative, smart, secure spreadsheets for fast-moving organizations
Sheets was designed with the needs of agile organizations in mind. AI features mean you can tap into the right insights to make meaningful business decisions. A cloud-based architecture enables you to collaborate with anyone, anytime, anywhere. Compatibility with external systems, including Microsoft Office, removes the friction of working with multiple data sources. And built on top of Google's infrastructure, Sheets gives you the freedom to create, while helping to keep your information secure.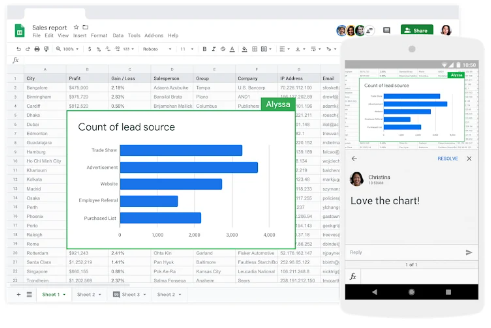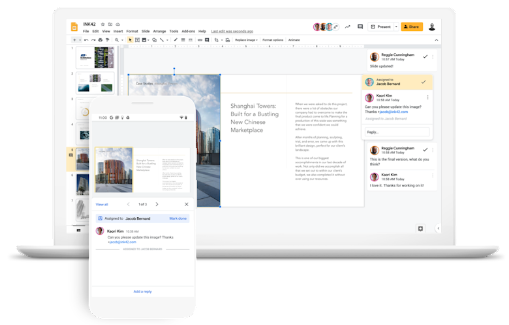 Slides
Beautiful presentations created together
Create and edit polished presentations in your browser—no software required. Multiple people can work at the same time so everyone always has the latest version.
Google Chat
Simplify 1:1 messaging and group collaboration
From direct messages to group conversations, Google Chat and Spaces help teams collaborate fluidly and efficiently from anywhere. Securely connect with anyone you work with, and take group work to the next level with shared chat, files and tasks.